By Fuyan Zhang
CCBP Student Assistant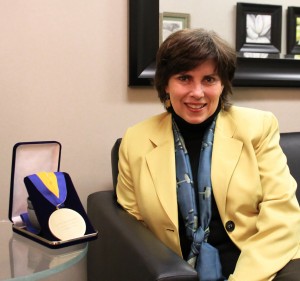 Director of Crossroads Community Center Lane McLelland is the recipient of the 2015 National Dialogue Award given by the National Sustained Dialogue Institute. The award honors those whose lives and work have been marked by the principles and values of Sustained Dialogue. McClelland won for her outstanding work in building multicultural dialogue at the University of Alabama.
"One of the big questions we ask when we get into a circle of people trying to work through an issue is, 'Who's not in the room? Whose perspective are we missing?' And all I could be mindful on the occasion when I received the award was all the people who made the things happen for which I was acknowledged and that they were absent from receiving the award that I got. But I really believe it was the work of so many students and faculty and staff on this campus," McLelland said in expressing thanks to everyone involved in UA's Sustained Dialogue.
The purpose of the National Sustained Dialogue Institute is to help groups work through conflictual relationships peacefully and to design change processes around the world. The organization was founded by Dr. Hal Saunders of Princeton University. Saunders collaborated with Sustained Dialogue graduates to found the Sustained Dialogue Campus Network.
In addition to the University of Alabama, the network consists of the following institutions: Addis Ababa University, Adlai Stevenson High School, Colorado College, Cornell College, Cuyahoga Community College, Denison University, Dickinson College, Emory University, Harvard University, Montana State University, Northwestern University, Princeton High School, Princeton University, Roger Williams University, Saint John Fisher College, Susquehanna University, University of Georgia, University of Hawaii, University of Notre Dame, University of Richmond School of Law, University of Virginia, and Vanderbilt University.
McLelland first got involved with Sustained Dialogue while working in New College with the civic engagement internship program. While preparing for a national conference, she reached out for help from the Sustained Dialogue Institute. After seeing the successful reception of the dialogue method, she wanted to do more with the UA program. When she became director of Crossroads Community Center, she was eager to revive Sustained Dialogue, which had been dormant for several years.
Today her involvement includes teaching a Sustained Dialogue class, the only one of its kind offered in a large classroom setting, different from the usual small seminar of 15 to 20 students.
She first offered a pilot course in 2013. In fall 2014, the course was expanded to today's large-classroom setting. With more than 50 students McLelland focuses on teaching students concepts and skills of dialogue instead of trying to move through the entire process. Sustained Dialogue Campus Network at UA also offers a one-credit course for students. Students with no prior Sustained Dialogue experience report quickly learning to converse with people outside their usual crowd.
McLelland hopes to provide more opportunities for students to dialogue and solve issues with people of different race, gender, social class and other differences. She wants Sustained Dialogue classes to focus on one or two topics per semester, moving the processes to the action stage.